Aladin Bamboocha is 100% natural charcoal made from bamboo. It is desired for shisha and barbeque.
Using our charcoal you don't harm natural environment because bamboo is growing one meter each day !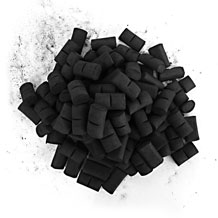 Additional advantage of bamboo charcoal is longer burning time and higher temperature than conventional briquettes.
Aladin Bamboocha products smells neutrally, they are pollution free by fewer CO2 emission and leave 80% less ash.

Our charcoals are available in 1kg, 2kg and 3kg package.